Hyper-Girl
REAL NAME: Ellen Slayton (aka Tharka Zurel)
OCCUPATION: Student/intern for the Weekly Global Dispatch, a supermarket tabloid
BASE OF OPERATIONS: Macropolis University, Macropolis
MEASUREMENTS: 5'5"; 35C-24-33
AGE: 25
POWERS/LIMITATIONS: Hyper-Girl posses hyperstrength, hyperspeed, hypervision, near invulnerability and the power of flight. Her greatest weakness is blue zoronite, which can strip her of her powers. Prolonged absence of sunlight can also weaken her.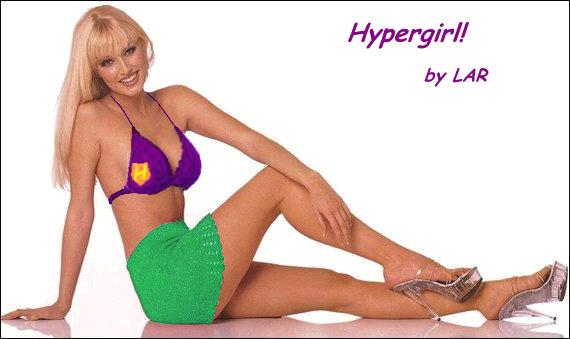 ORIGIN: When the planet Zoron exploded, young Tharka Zurel and her parents survived in an orbiting community, Oceana. When the atmosphere generator ran out, Tharka's father rocketed her to earth. Given the powers caused by her alien body, she decided to battle to make earth the paradise Zoron was before its destruction. So, inspired by comic books and newspaper reports of other heroines, she created the identity of Hyper-Girl!
---
STORIES
Episode One: Bug Out
Episode Two: Peril Of The Blue Stone Bandit
Episode Three: That Old Black Magic
MORE TO COME.
---
* FOYER * GALLERY * PRIMER * HISTORY * LINKS *