EPISODE TWO: THE MALEVOLENT MIND-READER
"Chief Jameson, are you there? We have a problem that you might want to look into..."
Josie Grey crossed her ankles as the message from Detective DeRocco came over the radio in her uncle's car. "Go ahead and answer it," she sighed. "You'll just have to owe me ANOTHER rain check for lunch!"
Gordon Jameson smiled apologetically at his niece as he spoke into the microphone. Josie was a good kid. He wished that she had NOT chosen to follow him into police work, but at least she was out of the line of fire as a forensic scientist, rather than the beat cop she had originally wanted to be! Then he focused on the report coming over the radio, about a problem at Greenway Towers. He changed direction, heading towards the highest apartment in the city.
Walter Fredericks, one of the city's wealthiest men, lived in the penthouse with his granddaughter. When Chief Jameson and Josie stepped off the private elevator, it became apparent that his granddaughter, Lois, was the problem. Although the millionaire was verging on hysteria, Chief Jameson's presence seemed to calm him enough to give a semi-coherent account of his problem.
"It all started with that psychic, Madame Magda," the elderly man said as he lead the way through the mammoth apartment. "I don't go for that stuff, but Lois likes it. So she had some friends over for a sťance three nights ago. The psychic made dire predictions about Lois unless she paid an incredible amount of money to have some curse removed. Lois recognized a shakedown, but then this morning, I found her like...THIS!"
Mr. Fredricks opened the door to the bedroom and Jameson and Josie gasped. Lying in the bed was a human-sized figure that seemed to be made of stone. The facial features were easily recognizable as Lois' from a family portrait that rested on the nightstand. Jameson looked at his assistant, Vince DeRocco. The large man shrugged his shoulders.
"This is pretty much as we found it, Chief. I wouldn't let nobody touch anything; I wanted you to see it first hand. I did call for an ambulance right after I radioed you, though. They should be here soon."
Josie, meanwhile, had advanced to study the stony woman on the bed. She ran her hands lightly over the face and body, trying to gage what she felt. "This isn't stone," she reported. "It's plastic, made to look like stone. And," she rapped her knuckle against the forehead, resulting in a dull thud, "it's hollow."
Jameson nodded. "So it's some kind of mannequin?"
Josie wrinkled her brow and shook her head slightly. "Maybe. But the weird thing is there are no seams that I can find. And no marks like carving would cause. It must have been cast in one piece, as is."
"Okay," Chief Jameson said. "Mr. Fredericks, can you come in the other room and give me some more details?" Josie nodded to herself; getting the poor man out of the room would be the best thing for him. "Josie, you see what else you can find. Vince, hang out here in case she needs anything." With that, he left the room, taking Mr. Fredericks with him.
Vince DeRocco fidgeted slightly as he watched Josie work. To most, she seemed like a mousy girl, someone you wouldn't give a second glance to. But Vince had noticed things over the time he'd worked with her. He noticed the way her red hair, always pulled back into a bun or a ponytail, blazed like fire when the light fell on it just right. He noticed how firm and shapely her legs were as she stood on tip-toe to examine something atop the window and her unfashionably long skirt rode up. He noticed how taught her buttocks were as she bent to look under the bed. He wondered why such an incredibly attractive girl seemed to go out of her way to make herself look plain. And, he wondered how Chief Jameson would feel about his assistant's observations about his niece. He suspected that the Chief would NOT be happy, so he continued to fidget and tried to look elsewhere.
"Vince," Josie said suddenly, "come here and pick this thing up. I want to know how heavy it is."
Vince flexed his muscles, grabbed the stony body, lifted...and almost fell over as the figure practically flew off the bed into his arms. "Heck, it's NOTHING!" Vince said. "See for yourself!"
He tossed the figure to Josie, who caught it and gauged the weight to be at most 20 pounds. "I thought it was much lighter than it looked. Can you give my report to my uncle? I want to get back to the lab."
"Sure thing, Jos. What'cha got?"
"Well, this OBVIOUSLY isn't really Lois Fredricks," Josie said as she dropped the plastic figure back onto the bed. "She was taken, and this was left in her place. I found these under the bed." She pulled several slivers of glass from her sweater pocket.
"Broken light bulb?"
"That's what I thought at first, but all the lights here are working fine. I think this held some kind of anesthesia that kept Lois asleep while she was carted off and this dummy left instead."
Vince nodded. "Makes sense. The question is, where was she carted off to?"
* * *
Lois Fredericks pulled again at her bonds, but without much hope of success. The cot she was tied to was a big change from her comfy bed at home! The attractive brunette was in a small, dark room, lying on her back. Her wrists were tied to the top corners of the cot. Her ankles had been crossed and bound, and lashed to the center of the foot of the cot. The maddening thing was that this last bit of bondage kept her pulled down far enough that her mouth couldn't reach her hands, which meant that the scarf that was cleaved between her teeth as a gag was just out of reach. All she needed was another inch or two, and she could free her mouth and scream her head off. But her bonds wouldn't give her that inch! Lois sighed and tried to at least get comfortable, as she waited to see what her captors had in store for her.
* * *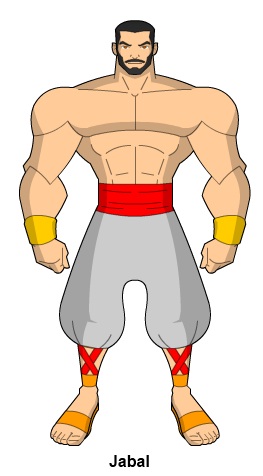 The bell rang softly as Josie opened the door to the shop. She rationalized that she hadn't REALLY lied to Vince. She did want to get back to the lab. But a quick stop her at Madam Magda's shop wasn't going to hurt anyone, right?
"May I help you, missy sahib?"
Josie whirled as she saw the man who had appeared from behind one of the curtains without a sound. He was big, perhaps six foot four. He was also VERY well built. This was obvious from the way he was dressed, in white billowy pants with a red sash as a belt, no shirt, and a red turban. He looked like an extra from a Saturday matinee of "The Adventures Of Sinbad."
"I, uh, was hoping to get an appointment with Madam Madga," Josie said. "I've tried other psychics, but had no luck. I heard good things about her, and..."
The man shook his head. "I'm afraid not. Madame Magda is rather busy. She has a private party tonight and must rest."
"I will see her, Jabal," a silky voice intoned from nowhere.
"But, mistress..."
"NOW, Jabal." The voice wasn't any louder, but it was piercing.
"Yes, mistress." He turned to Josie. "Follow me."
Jabal lead Josie into a small back room, draped in red curtains, and motioned for her to sit in a seat. Moments after she did, the farther curtain parted and a woman stepped through. "That will be all, Jabal," she said. Jabal bowed and left, giving Josie time to study Madame Magda.
To call the woman beautiful would be an understatement. Madame Magda was stunning. She had a slender body accentuated by soft, voluptuous curves in all the right places. Her skin was dark, indicating a heritage from somewhere in the Middle East. Her hair was jet black, and her eyes were dark enough that they appeared jet black as well. The woman was clad in a slinky, red sequined gown that exposed an ample amount of cleavage and shapely thigh.
Magda moved with the fluidity of a cat as she crossed the small room and sat opposite Josie. "You must excuse Jabal. I seldom see clients without an appointment," she said. "And these days, private parties take up most of time and energy. But my guides told me that I must speak with you."
Josie swallowed. By now, she was convinced that Magda was about as much a psychic as she was an alien, but the woman put on a convincing show. "I'm just having trouble in my life," the redhead said. "I don't know what direction to go in..."
Magda closed her eyes and nodded. "You are...two women in one. You do much good that you cannot claim credit for. You are protecting someone, someone close to you."
Josie started. She WAS two women: Josie Grey and Blue Scarab! And she couldn't tell anyone, for fear of what that knowledge would do to her uncle! She listened intently.
"Your current turmoil comes from searching for something. No, someONE. You fear this person is in trouble. She is. But her situation is not yet deadly." Magda suddenly reached across and grabbed Josie's wrist. "The path you are on will lead you to much danger. I sense confinement, limitations that you must overcome if you are to survive. You must relieve the pressure you'll fell. That is all."
When Magda refused to answer any further questions, Josie left. On her way out, she paused long enough to glance at the appointment book. Tonight's party would be at the Collins estate. Well, Blue Scarab would be there, as well!
As night fell, Blue Scarab settled into the comfortable seat of the Scarab Car and watched the screen mounted in the dash. An earlier expedition to the estate had allowed her to plant a small camera and listening device on the window of the drawing room. She watched now as people filed into the room. The last to enter was Magda, draped in a flowing robe. Jabal followed his mistress like a lap dog, and took the robe from her. Blue Scarab realized that he would do whatever Magda asked; if Magda was the brains behind Lois Fredrick's kidnapping, Jabal could easily be the muscle.
The sitting went smoothly for up to half an hour. Then, suddenly, Madga stiffened as if in pain. She pointed at the youngest Collins girl, Margaret. "You. You have been disrespectful to the spirits. They have a fate

planned for you, a fate worse than death!"
The family looked shocked. "What can we do?" Mrs. Collins asked.
"I may be able to intervene," Magda said. "But it will be costly. I must purchase rare and expensive items in order to appease the spirits. If not... You heard what happened to Lois Fredericks, yes?" When they nodded, she continued. "You have three days to make your decision. Now, I must go. This reading has taken much out of me."
ANOTHER shakedown, and so soon after the first! Blue Scarab could hardly believe it. But, of course, the fate of Lois Fredericks would make others less likely to ignore the "warnings" of the "spirits." This woman was slick; there was no doubt about that!
Magda left amidst a swirl of turmoil from the family, with Jabal barely managing to hustle his mistress out to their car. The big man got behind the wheel and drove. The Blue Scarab waited a few moments, then pulled out after him, following him back to the city.
The trail eventually lead to a small, unassuming brownstone. It was hardly the area where anyone would expect to find an exotic psychic living. Perhaps that was the whole point. The heroine slipped around back and scaled quickly to an upper floor window, through which she gained access to the home. Now, to find her prey.
As she slipped through the hallways, she heard a voice. It was Jabal, apparently on the phone. "I understand your concern, Mr. Fredricks. But Madame Magda DID warn your granddaughter. It is still not too late to reverse the curse, but the cost now will be greater. Double, in fact." He paused and listened. "Very well. My mistress wishes me to tell you that you have three more days before your granddaughter will be gone for good. Please reconsider."
Blue Scarab slipped her arm into the room and fired her Scarab Sting at the big man. She was an expert combatant, but knew her limitations and had no desire to tussle with the massive Jabal. The electric blast of the Sting rendered him unconscious. Now, she could find Magda and make her tell where Lois was!
The azure adventuress moved quickly through the house. It wasn't long before she found Magda. Blue Scarab wasn't sure WHAT she expected to find when she found the mystic but THIS wasn't it! Magda seemed to be in some kind of trance. The ravishing woman sat in an ornate, wooden chair with gold decorations. The decorations included cuffs that held her wrists and ankles secure against the chair. Slender golden chains encircled Magda's torso and thighs, holding her fast to the back and seat. Her full red lips were held apart by a red ball-gag in her mouth.
"What the…?" Blue Scarab ran forward and tried to free the entranced woman. How had this happened? What was wrong with her? How could she get Magda to talk? As these thoughts whirled through her mind, Blue Scarab was grabbed from behind. A thick pad was clamped over her mouth and nose, as she felt herself being held by muscles of iron against a massive man. It had to be Jabal! As she recognized the sweet smell of chloroform, her mind whirled. She should have used a higher setting on her Sting, but didn't want to do permanent damage. She should have realized that such a large man would recover from the lowest setting quickly. This was the last thing to go through her mind as she lapsed into darkness.
Blue Scarab's eyes opened and focused slowly as she regained consciousness. The first thing she saw was a young woman, tightly gagged and bound to a bed. She was dressed in a pink nightie, and after a few seconds, Blue Scarab recognized her as Lois Fredericks.
"Well, I guess that's the GOOD news," the heroine thought wryly.
The BAD news was that Blue Scarab was pretty much as helpless as the woman she had come to rescue. She was lashed to a chair, and who ever had done the tying – Jabal, she assumed – had done a rather thorough job. Her arms were tied to the sides of the chair and her ankles were lashed to the front legs. Ropes criss-crossed her torso, and her mouth had been taped shut. Blue Scarab sighed into her gag as she tested the bonds. WHY did every villain she met have a merit badge in ropework? Maybe she should write a nasty letter to the Boy Scouts!
Looking around, Blue Scarab decided that this had to be a basement, probably the basement to the brownstone she had entered. That didn't help her much, though, if she couldn't get free! There was no slack in the ropes at all. That was not good. As she tugged on her wrists, however, Blue Scarab realized that she had been stripped of her Scarab Stings. That was MUCH worse! The weapons wouldn't work for anyone but her, but without them she was in real trouble! The Scarab's head snapped up as the door to the basement opened, and Jabal came in, followed by Magda. The situation was a complete change from what she had seen back at the Collins estate.
Jabal was still dressed in his "Sinbad" wardrobe, but Magda had changed into a billowy, gossamer pants and bra ensemble that looked like something a harem girl would wear in that Sinbad movie. She was barefoot, and her wrists were held behind her back by golden manacles. There was a red cloth gag in her mouth, and a slender golden chain around her neck that Jabal held like a leash. Small bells around her ankles tinkled softly with every step.
"Good," Jabal said. "I hoped you'd be up by now. I'm going to remove your gag, but if you scream I'll crush your skull like an egg. Got me?"
When Blue Scarab nodded, Jabal motioned for Madga to stand in the corner while he peeled off the tape and removed a ping-pong ball from Blue Scarab's mouth. "Alright," he said, "tell me the truth. How much do you know? How much have you told?"
Blue Scarab's mind raced. Should she tell the truth? Or lie? Better to keep it simple, she thought. "Well, I obviously don't know as much as I thought," she admitted. "I thought your phony psychic over there was the brains behind the operation."
"Ha! Wrong on both counts," Jabal said. "I thought you superheroines were supposed to be so smart! First of all, I'm running things here. Secondly, Magda REALLY is a psychic!"
"Oh, come on," Blue Scarab sneered, playing for time, "there's no audience here for you to play to!"
Jabal's face clouded. "I'm telling the truth. I met her on a sideshow circuit. She was doing psychic readings. I was doing a hypnosis act! She intrigued me enough to get to know her. As our relationship progressed, I learned two very interesting facts. First, she really did have psychic powers. Second, her mind was VERY submissive. A few hypnosis sessions, and she was completely in my power. The chains are just to reinforce my mastery over her. By now her subconscious is so bent to my will that she couldn't even THINK about disobeying me. And the best part is that when she's out of the trance, she doesn't even realize how much control I have over her!"
The red-headed wonder looked with pity on the lovely, glassy-eyed woman in the corner. To be so totally dominated like that...it was horrible. "So you used her in your kidnapping shakedown scheme against her will."
"Kind of. I don't know if you can say 'against her will,' since she doesn't have a will any more. But before every party, I give her a suggestion to use the 'curse' routine on one of the patrons. If they pay up, fine. If not, I have to do this." He motioned to Lois, who yanked on her bonds and squealed angrily through her gag.
"What about the stone statues?"
"I take pictures of the victim during the night with a hidden camera. I have a set up upstairs where I can turn them into a hologram, which is then sprayed with a special plastic that hardens when exposed to the hologram's light. Bingo! Instant statue."
"And then you kidnap the victim, leaving the statue in place. What happens then?"
"Well, if the victim's family pays up, they are released, after I hypnotically wipe their mind clean. If not…well, the bodies are never found. As far as anyone's concerned, they became a statue."
"Do you really expect to get away with this?"
"Sweetie, I've done this in seven other cities before I came to Greenway. All I have to do is get rid of you, and move these two to somewhere else!"
Moving with speed that belied his size, Jabal stuffed the ball back in the Scarab's mouth and replaced the tape over her lips. Then he dragged her chair over towards the furnace.
"This place I rented is nice, but old. Once I smash the pressure valve on this furnace, the pressure will slowly build until it blows up. Should be powerful enough to bring the house down on top of you, but I doubt you'll be alive to notice..."
Jabal freed Lois Fredericks from the bed and retied her hands behind her back. Then he smashed the pressure valve on the furnace, hoisted Lois over his shoulder, and grabbed Magda's leash. "Looks like you could have used a psychic, huh?" he said as he left the basement and locked the door.
Blue Scarab struggled as much as her bonds would allow, which wasn't much. She watched as the pressure needle slowly climbed towards, and eventually into, the red danger zone. The furnace started to make a horrible noise and steam leaked out around the joints. The heroine was helpless, and Jabal's farewell words echoed in her mind.
Wait a minute! She HAD seen a psychic: MAGDA! What was it she had said? Relieve the pressure? Well, sure, but to do that she needed the pressure valve, and the use of her hands! Or...maybe not! She noticed the glass tube on the side of the furnace. She recalled reading that if that tube was smashed, all the pressure would escape. It was her only chance. She wriggled and twisted her magnificent body against her bonds as she bounced her chair closer to the furnace and shifted it around. Finally, when she thought she had the angle right, she tipped her chair over. The back of the chair crashed into the glass tube, shattering it.
With a sound like a small explosion, steam roared out the opening. Blue Scarab felt a burning sensation on her arms, but knew it would be minor. She banged her head as she slid down the furnace and hit the floor, but at least the furnace wouldn't explode!
The escape had an unexpected side effect. When the steam hit the cooler air of the basement, it began to condense. A thin film of moisture quickly formed on everything. With the wetness making her spandex uniform slicker and allowing the ropes to swell and stretch, Blue Scarab's struggles finally bore fruit. Her left arm slid free of the bonds, and she began to untie herself. Then she had a score to settle with Jabal!
* * *
Jabal looked at Magda and Lois, bound back to back on the floor of the cheap motel room. Lois struggled, but he knew that she'd never escape his handiwork. Magda, lost in a hypnotic trance, didn't even realize her predicament. He wasn't happy about being here, but it would do until he could find a new hideout.
Or maybe not. The Collins family, he was sure, would come up with the money. And Mr. Fredricks was so panicked that he was bound to pay up before the second three days elapsed. With that much cash, maybe he should cut his stay in Greenway City short, and just pack up Magda and head for the next town. The more he thought about it, the more he thought that was the way to go.
Suddenly, without warning, the door smashed open and Blue Scarab charged in. She fired a Sting at Jabal, but he stumbled as he rose from the chair, causing the blast to miss him. He quickly regained his feet and dove at the heroine.
Blue Scarab dropped backwards, planted her feet on the man's chest, and directed him above her prone form. The man's head smashed into the wall, dazing him. As he slowly got to his feet, he felt the electric surge of the Scarab Sting, this time set to full blast. Josie freed Lois and Magda, phoned the police, and left one of her Scarab calling cards behind before vanishing out the window.
EPILOGUE
"So Lois and Magda are fine?" Josie asked. She was sitting on the couch in her loft, her legs drawn up under her, while she sipped tea and chatted with her uncle and Detective Vince DeRocco.
"Well, Lois is fine," DeRocco said, trying to ignore the way the position curved Josie's body. "Magda is getting heavy counseling and psychiatric treatment, but the shrinks think they can free her from her over-active submissive tendencies."
Gordon Jameson leaned forward. "As good as that is, Josie, that's not really why we came. I have a favor to ask you...both of you."
"What is it?" the redhead asked.
"The Blue Scarab. So far, she's been on our side, but I'm not sure I like the idea of a vigilante operating in my city. Vince, you're probably the best detective the force has seen since I got booted up to administration. Josie, you can do techno-things I don't even begin to understand. I want you two to try and find out who she is. I want to know we can stop her if we have to."
"You got it, Chief," Vince said.
Josie squirmed slightly, but figured that she was lucky she knew about this. "Don't worry, Uncle Gordie. I'm sure that I can find out, if anybody can..."
* FOYER * BLUE SCARAB FRONT PAGE *